Discussions
Start Here
The products of two artistic journeys can be radically different, even if they start at exactly the same place.
As soon as the compositional parameters are fixed, the individual artist's background, technique and intention become the deciding factor.
In this panel discussion hosted by Andrew Huang, we follow the different paths taken during a creative challenge presented to Ebonie Smith, Nick Weiss and Loop's worldwide community, in which they all had to turn the same sample into a 90 second piece. The aim being to learn about each other's ideas, processes and decision making.
Whether you take part in the challenge yourself or just want to understand the work of the artists on stage, the result will be an engaging panel discussion open to explore anything from the philosophical aspects of music making to directly applicable technique.
Both the challenge and the live stream are now over, but we'll share the outcome on the Loop Hub, as well as on Andrew's and Ableton's channels.
Date & Location
Participants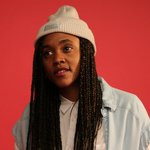 Ebonie Smith is an award-winning music producer, audio engineer and singer-songwriter from New York City.
Nick Weiss is a producer, engineer, and sound designer currently based in NYC.
Moderator
Andrew Huang is a Toronto-based musician and YouTuber best known for his prolific output and the Song Challenge video series which documents his unusual feats of musicianship.